It has been suggested this page be merged with Spümcø.
Spümtwø
is the revival of
Spümcø
. It was founded in April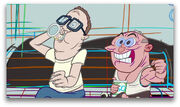 of 2016 by its original creator,
John K.
and Gabe Del Valle, a storyboard artist from Cartoon Network, as announced on the latter's Tumblr and Facebook. It will form bigger projects than the original company, which primarily focused on short subjects, and will be creating a "Ren and Stimpy" short to air before SpongeBob 3 in 2019, with the possibility of once again reviving the series, as stated in August 2016.