It has been suggested this page be merged with Spümcø.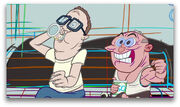 Spümtwø is a name given to a proposed studio that was announced on April 7, 2016 by Gabe Del Valle, an artist that had worked at Spümcø. The announcement stated that Del Valle and John K. were starting a new studio for a "big project coming up".[1] The name of the studio was not listed as it had not been founded yet, so "Spümtwø" was inferred from the presence of "spumtwo" in the contact email. The announcement was removed from Del Valle's Tumblr account sometime afterward, likely due to being hired again by Cartoon Network shortly afterward.[2]
On March 4, 2017, Kricfalusi announced a second new studio to be based in Miami, Florida, named John K. Studios.[3] The studio's only project was an animated short for Adult Swim, advertising the then-upcoming UFC 200 match on July 9, 2016, produced prior to the announcement of forming the company.[4][5] The short was the "big project" in Del Valle's previous announcement, as evidenced by the matching artwork between Del Valle's announcement and the Adweek article about the UFC 200 animated short. As of July 2018, the studio website is offline.
The future of any successor companies to Spümcø is currently in doubt due to the sexual harassment allegations against John Kricfalusi in 2018.[6][7]
References
Edit
↑ "John K. and I Are in the Process of Opening a Company", Gabe Del Valle, April 7, 2016 (retrieved from the Internet Archive)
↑ Achievement unlocked!, Instagram post by Gabe Del Valle, May 16, 2016
↑ "Calling all (good) cartoonist!", new studio announcement by John Kricfalusi, May 31, 2017
↑ "King of the Hill's Hank Returns to Promote UFC 200 in New Adult Swim Branded Spot", Adweek, June 29, 2016 (retrieved from the Internet Archive)
↑ John K Studios, December 17, 2017 version saved by the Internet Archive
↑ "Drawing the Line: The Disturbing Secret Behind An Iconic Cartoon", Ariane Lange, BuzzFeed, March 29, 2018
↑ "Ren & Stimpy Creator Accused of Predatory Behavior, Sexual Misconduct with Under-Age Girls", Yohana Desta, Vanity Fair, March 30, 2018